Movers' Marketing Machine has been honored to partner with A Mother's Touch Movers of Melbourne, Florida since 2014. We recently built them a new website featuring a sleek, responsive design and glowing customer reviews which are constantly being updated as part of our reputation management service. Sean Stein, the owner of A Mother's Touch Movers, recorded a video about selecting the right mover. Let's see what advice he has to give.
Hey, this is Sean Stein, owner of A Mother's Touch Movers, and I'm here to give all of you consumers a little bit of insight on selecting your mover. One of the first things you have to do when you're moving is, obviously, select your mover. So, the first thing you want to do is call and make sure the movers you're considering are licensed. You also want to make sure that they have insurance. You don't want to call somebody that you know is using day labor, and it's really important to do some research on your moving company. Research is where it's all going to begin. Call the state. They should have either a D.O.T. number or an I.M. number depending on what state you're in. If they're licensed through the state then they're going to be insured, so you definitely want to make sure of that.

Then you want to look at referrals by going online. Online referrals are going to tell you a lot about different companies. Once you see some of their online referrals then you can also ask around to some of your friends and others that you know. You definitely want to talk to different people and get input from them. You don't want to call a third party broker because they're going to push your name and number out to eight or nine different companies and you won't have any idea who's going to show up at your door. You really want to contact the actual mover, not a third party broker because brokers have no idea who's actually going to be there doing the move for you. This is very important.

Most companies will give you a free estimate. If they don't, I would shy away from them because you want somebody to come out there and give you an idea of what your cost is going to be and also tell you different ways to save money during the process. Moving is stressful, so the last thing you want to do is call the wrong mover. Make sure the first thing you do is call several different movers and have them come out. By having them come out you'll quickly be able to tell whether you think that they're a reputable company or not. Once again, go online, read the reviews, and go to their web page and read the reviews there.

Hopefully, I've given you some ideas on how to select the right mover. Selecting the right mover is very important! Thanks so much. We'll see you next time.
If you own a moving company anywhere in the U.S. and are looking for ways to grow your business, please contact Movers' Marketing Machine at 321-725-4668. We work exclusively with moving businesses, and our experienced team knows how to employ marketing strategies to make your company stand out from the rest. We utilize web design, SEO, Google PPC ads, social media management, video production, and more to showcase what your moving company has to offer. Just ask Sean from A Mother's Touch Movers how we've helped grow his business or check out their case study to learn more.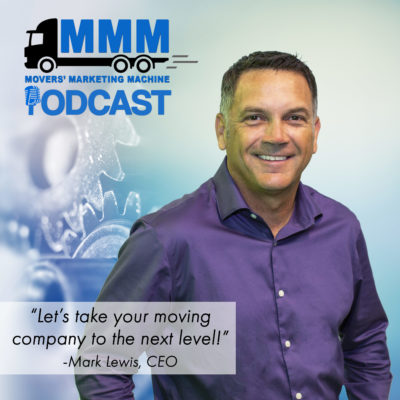 Mark Lewis, CEO of Movers' Marketing Machine